Cosmetic Dentistry in Bolton
If you're looking for affordable and highly rated cosmetic dentistry near you in Bolton, our friendly and modern clinic can help.
You will benefit a fantastic range of competitively priced treatments from a highly experienced cosmetic dentist and 0% interest free finance options.
Meet your highly rated cosmetic dentist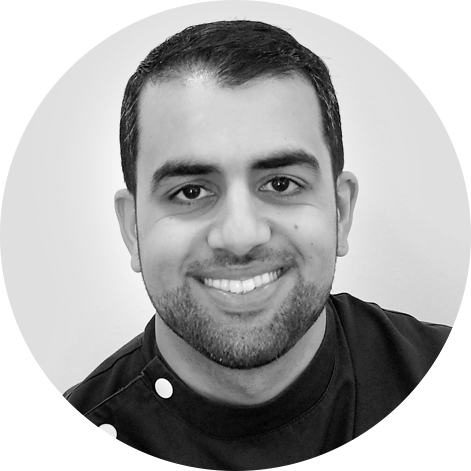 Cosmetic Dentist, Aesthetic Dentist and Implant Surgeon
Following the initial consultation to discuss your options and treatment plan, you will be treated by our highly skilled practice owner and principal dentist Dr Riaz Mitha (GDC no: 81943).
With almost 20 years of extensive experience, Dr Riaz Mitha has a real passion in cosmetic dentistry and has also trained some of the world's finest dentists.
How we can help you smile with confidence
Cosmetic dentistry involves procedures with the aim of improving the overall appearance of your smile. Whether you want a dazzling "Hollywood smile makeover" or a more conservative look, we can cater for your every need. A beautiful smile can have a positive impact on your self-confidence and self-esteem.
If you are not born with beautiful teeth, or if your smile has lost its sparkle due to ageing and from the effects of drinking tea, coffee and red wine, we can create the beautiful smile of your dreams. Modern cosmetic dentistry gives you the chance to smile with confidence.
Are you looking for affordable "cosmetic dentistry near me"?
At Dental Design Studio each treatment is customised to your individual requirements and we value your input at each stage of the process and we use only the best technicians from all over the world to craft your restorations so you can be rest assured your teeth will look natural.
5-star Google review for our cosmetic dentistry
"Have recently completed 10 months of treatment with Riaz for a smile makeover. I had 6 very old porcelain veneers, tooth crowding and gum recession so I think I was a challenge for him!! The treatment I received was superb, I am delighted with the outcome. Riaz explained each step, took time to plan the work meticulously and listened to what I wanted from the result which was natural looking veneers.
I was extremely well looked after with regular reviews and check ups along the way. This also included visits to improve my general gum health and dental hygiene. I now have 10 porcelain veneers on my top teeth, I can't stop smiling!! I would highly recommend Riaz he is a very skilled cosmetic dentist. I am delighted with the smile he has created for me!!"
- V. Sheppard, via Google reviews
Our Treatments
"We shall never know
all the good that a
simple smile can do" Mother Teresa
Some of the most common cosmetic dental procedures include:

Teeth whitening - a popular procedure that involves removing stains and discoloration from teeth to make them appear brighter and more youthful.
Dental veneers are thin, custom-made shells that are placed over the front of teeth to improve their appearance.
Dental implants are artificial teeth that are surgically implanted into the jawbone to replace missing teeth.
Dental bonding is a procedure that involves applying a tooth-colored resin to teeth to repair damage or improve their appearance.
Invisalign which is a very popular and discreet orthodontics treatment involves the use of clear aligners to straighten crooked or misaligned teeth.
Take the next step, call
01204 856833
today for a
Smile Consultation
Why should you consider cosmetic dentistry?
Cosmetic dentistry can not only improve the appearance of a person's teeth and smile but also boost their self-confidence and overall quality of life.
It is important to note that some cosmetic dental procedures may also have functional benefits, such as improving bite alignment and reducing the risk of tooth decay and gum disease.