Dental Implants in Bolton
If you're looking for long-lasting, natural-looking and affordable dental implants near you in Bolton, our highly rated and experienced team can help.
Benefit from 0% Interest free finance, a fantastic range of competitively priced implant treatments and a highly experienced implant dentist.
Meet your 5-star rated implant dentist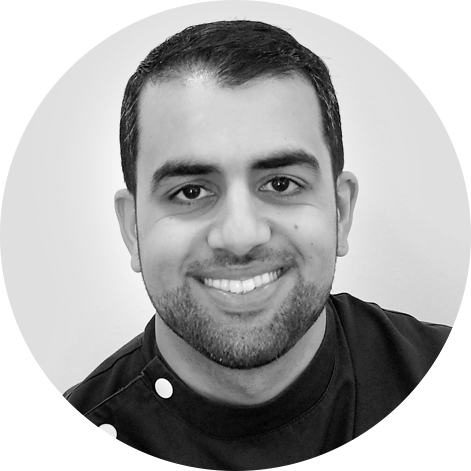 Cosmetic Dentist, Aesthetic Dentist and Implant Surgeon
Following your consultation to discuss your implant options and then agree a treatment plan, you will be treated by our highly skilled practice owner and principal dentist Dr Riaz Mitha (GDC no: 81943).
With almost 20 years of extensive experience, Dr Riaz Mitha has a real passion in cosmetic dentistry and has also trained with some of the world's finest dentists.
People lose teeth all the time, either through trauma when teeth are knocked out or due to decay, gum disease or old age. Whatever the reason for loosing your teeth they need to be replaced both for aesthetic and functional reasons.
BENEFITS OF CHOOSING US FOR YOUR IMPLANTS
We have built up an excellent 5-star Google rating
We are passionate about our attention to detail and we use the latest technology, treatments and materials
We believe in working closely with our clients and we have the expertise to help you achieve the smile you have always wanted
We welcome nervous patients - our caring staff will instantly put you at ease
How much do dental implants cost in Bolton?
To help make our dental implant fees as affordable as possible, we have ensured they are extremely competitively priced when compared to other expert dentists near us in Bolton.
As a result our implant prices start from £2,200.
Dental implants are now becoming the preferred option to replace missing teeth as they provide a longer-term solution, slow down bone loss and preserve nearby healthy tooth tissue.

Dental implants are also commonly used to securely fix a denture in place, avoiding embarrassing denture slippage or denture fixatives significantly improving the quality of your life.

Dental implants are basically a titanium screw that can replace the root of a failing tooth. It is placed in the jawbone just like a normal tooth root. Implants are normally screw-shaped or cylindrical and help to act as artificial tooth roots. Find out what are dental implants.

Dental implants can last a lifetime with proper care and maintenance, such as regular dental checkups, good oral hygiene, and avoiding smoking.

Most patients report only minor discomfort during the implant placement procedure. Local anesthesia is used to numb the area, and sedation options are available for patients who are anxious or require more extensive treatment.
Our latest Bolton dental implants review via Google
"I have now had two dental implants at Dental Design Studio and both are superb. The first was ten years ago and i have never had any issues whatsoever with it, the second and more recent one was done this year and Riaz and all the staff dealt with everything extremely professionally under trying circumstances due to the Covid-19 pandemic. I would have no hesitation in recommending them."

The images below from some of our patients show the amazing transformations that can be achieved with our dental implant treatment.
Before

After

Prosthesis

Great New Smile

This gentleman presented with a failing upper dentition with most of the teeth of a poor long term prognosis. While looking to provide a fixed solution, we decided to extract the remaining upper teeth and place 6 dental implants and an fit an immediate temporary prosthesis on the day.
After the patient has fully healed, approximately after 4 months we constructed a new screw retained denture with a metal substructure for maximum strength. The result is a great transformation and the client does not need to worry about loose dentures. A truly life changing experience.
Before

After

This patient presented with a missing Upper right first premolar. One Astra dental implant was placed followed by restoration approximately four months later. An excellent result obtained and one very happy lady.
Before

After

This young lady had several teeth extracted as they were badly decayed. Following a few months of healing two implants were used to provide one implant crown and a 2 unit bridge restoring her smile and function.
Before

After

This gentleman presented with loose and failing front teeth. After they were extracted three Astra implants were placed and subsequently restored with a 5 unit bridge restoring his smile.